Welcome to The Happiness Place, the complete apartment for one, two or three and one of the best places to stay in downtown Utrecht, The Netherlands.
In the ancient heart of Utrecht you'll find peace and tranquility in The Happiness Place, with everything on walking distance. The apartment is furnished characteristically with what you need to feel at home, for tourism, family visit, work and business. Inside you have privacy and security, a fine bed, bathroom with tub & shower, a kitchen, good coffee and tea, wi-fi that works. Outside . . . read more or book.

HOME / PHOTOS & REVIEWS / MORE INFO / CONDITIONS / ROUTE / DATES & RATES / BICYCLES / CONTACT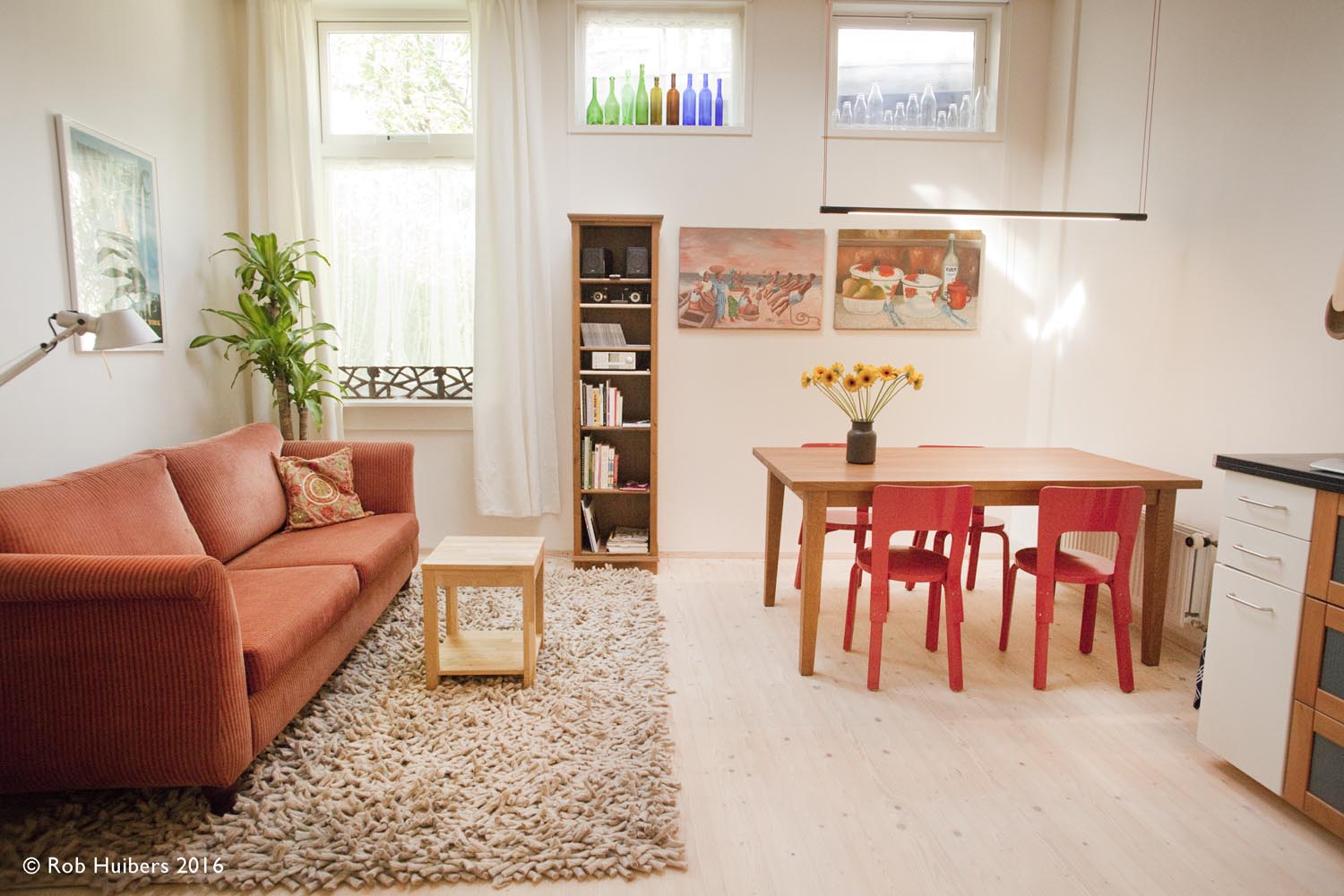 Scroll or click for next photo.
Kevin and Brigitte from UK in February 2017: A comfy and cosy apartment -gezellig as the locals say- and yet light and airy at the same time. Ideal if you're using bikes to get around the city because you can park them securely as you enter. Excellent city history/guide in the apartment written by the host. We enjoyed following it!
Price/quality 10; hygiena 10; service 10; comfort 10; location 10.

Simon and Ashley (New Zealand) in August 2016: Amazing service, extremely friendly and attentive! Very comfortable bed also! Thanks a million!
Home / Top

Lois and Henrike from Nijkerk, The Netherlands in February 2017: The location is really perfect. Also, we had a lot of fun with the apartment itself. It is very well decorated and every time you see new things. It was lovely to wake up seeing the stained glass window. All in all, we enjoyed it mega :) Greetings from Lois & Henrike
Home / Top

Saul and Usue (Bilbao, Spain) in August 2016: The stay at Rob's house was very comfortable, it was like we were home. It completely resembles with the pictures. The bed is really comfortable and the kitchen is equipped with all appliances. The apartment is really clean and tidy. Moreover, Rob ensures that nothing is lacking. Note the wonderful collection of music and the location, 2 minutes from downtown."
Home / Top

Byron, Lisa and Mary from Sadler Texas in December 2017: Wonderful place to stay when visiting Utrecht. Exceptional location only a few steps from DOM tower and the wonderful sites. Clean, well appointed, exceptional guide book, fully furnished kitchen and even a well stocked refrigerator. Rob provided immediate responses when texted, provided extra steps like fresh flowers. Exceptional value for the location and amenities. Will definitely stay again when we go back. HIGHLY RECOMMENDED...!!!
Home / Top

SKoT and Tara (Australia) in September 2016: The apartment is extremely quiet, yet only 50 meters from the busy main canal lined with restaurants and bars. Rob was a most gentle and welcoming host, taking time to explain everything and introduce the neighbourhood. I definitely make time to read the detailed neighbourhood guide Rob has written - it is packed with his own photographs, historical fasts, and some amusing "editorial" comments on the state of affairs :). Rob not only took the time to make us coffee on occasion, but some bikes as well! Lots of light. Very relaxing and in the heart of beautiful Utrecht. One of the best AirBnBs we've experienced.
Home / Top

Karoliina and Kiira (Finland) in Novdmber 2017: Staying at the Happiness Place was just perfect. We stayed here for three nights with my sister and the place didn't miss one detail. Rob was a attentive and warmharted host and the apartment was clean, cosy and private. Even thought I already knew the city quite well, Rob had even more insight and a lot of tips - also, the location is one of the best in Utrecht! I would be glad to recommend this place to anyone.
Home / Top

Guenevere (NL) in August 2016: "Beautiful apartment in the city centre. Easy to get to all the tourist hot spots and nice cafe's. Walking distance from Central Station. Rob was a fantastic host who made sure we had everything we needed, and could arrive and leave at late/early hours. Thanks Rob!"
Home / Top

Jordi and Dirkje (NL) in August 2016: "The landlord told nice things about Utrecht and its history. The location is perfect (on a quiet spot in the center). You can see that a lot of time has been put into the design of the apartment and therefore it looks very nice and cozy. We had a great time there and we will definitely come back. Highly recommended!" Kristiina and Everything you want from an Airbnb: central location, immaculately clean, comfortable bedding, all the amenities. And, in this case, tons of local knowledge/expertise provided (binder with everything you could ever want to know about Utrecht in English) and style to boot. Rob is communicative, kind and respectful - wonderful host and place.
Home / Top

Jennifer Fairfax and her mother (Collingham, UK) in October 2016: This was a great apartment in such a good location. Rob kindly lent us his two bikes whilst we were staying which worked really well and was cheaper than if we'd hired them from elsewhere. Would thoroughly recommend :)
Home / Top

Christine from Freiburg (Germany) in October 2016: A lovingly designed little apartment with lots of privacy and tranquility. The location is fantastic, right in the middle of town but still very quiet in a cul-de-sac. Rob is a very sympathetic host for whom it is important to make his guests feel comfortable. We had a great time and would recommend it to anyone looking for a place to relax and have fun. We will definitely be back!

Home / Top / Photos & reviews / Conditions / Route / Dates and Rates / Bicycles / Contact Iris uit Doetinchem (NL) en Brendan (Canada) in juli 2016: Rob's place is truly wonderful. He is an artist and has a great eye for detail. The place, right in the most beautiful part of Utrecht, (but very peaceful!) is filled with interesting details from the tiny music box above the sink to the articles and glass bottles decorating the walls. The house has a great feeling to it, a feeling only enhanced when the music is on. Rob's music collection is as broad as his interests and it complements the apartment perfectly. I'm sure you won't be able to name many artists, but if you are a firm believer in the Dutch idea of gezellig, then I encourage you to try it all.

The Happiness Place means hospitality, privacy, safety, quiet, a private atmosphere and good facilities on 50 m2 with a view on a green garden inside the medieval center of Utrecht, The Netherlands. You'll have your own entrance, a living room with a well equipped kitchen, plenty of daylight and a fine sofa, excellent coffee and tea, a special collection of music, a intimate bedroom with a good bed and a beautiful stained glass window, a bathroom with tub, separate shower, separate wc.
Do you want to read what other guests say about us?
Our private city guide tells you what only the locals know: a unique experience. The wifi for email and some daily surfing is free and it works all over the place.
The Happiness Place is situated in a quiet old street, and the Utrecht that so many people love, starts right outside the frontdoor. All the terrific churches, the restaurants, cafes, coffee bars, the hippest shops, the music theater, cinema's, railroad station and, in fact, the whole city are all within walking distance and nature is within cycling distance.
By the way, Utrecht is evolving more and more as a bicycle town, with bike paths in al directions. Are you travelling by bike? Park it inside here, safe and free.
Rental bikes are available, male and female, so you can cycle like the locals do.
Do you like to leave the beaten tracks? We share the secrets of this town with you.
The house is suitable for older people with a separate shower with a solid wall handle and most rooms on ground level. Only the sleeping room has an straight 6-step stairway with a bannister.
An extra bed is possible, for a third guest.
Special fees apply for longer periods: ask for the discount of 10% for of seven nights or more.
With our breakfast supply service you will find the supplies for your first breakfast in the kitchen when you arrive and go downtown carefree.
An excellent breakfast can be served for 15 euro pp and 25 euro for 2 persons.
Information on bikes for hire.
Information about how to get here and about parking a car in Utrecht.
For available dates, rates and reservation look at dates and rates or call + 31 (0)6 50510860.
Before you make a reservation please read the conditions on reservations and cancelling.

Home / Top / Photos & reviews / Conditions / Route / Dates and Rates / Bicycles / Contact

TRAVELING TO THE HAPPINESS PLACE
LANGE LAUWERSTRAAT 14, 3512VJ UTRECHT, THE NETHERLANDS
+52.095899 +5.117162
+31 6 50 51 08 60
E-MAIL

On arrival please ring the doorbell left of the front door

Train
Most major railway stations in The Netherlands have direct Intercity connections with Utrecht Centraal, up to six times per hour, Amsterdam Airport as well. The railway station at AMS is conveniently situated below the central hall of the airport. Look at ns.nl to plan your train journey or download the app NS Reisplanner on your smartphone. Please remember that Intercity trains are yellow and slow trains, called Sprinter, are white.
Many guests walk here from Utrecht Centraal. It takes about 15 minutes. From the platform, you first go to the hall, which is above the tracks. There you go towards the lower track numbers into the direction of the center. Soon you will be walking into the shopping mall Hoog Catharijne (currently under reconstruction), where you go straight ahead, left and then right at the T-crossings (follow sign "Binnenstad"), and down with the escalator after hundred meters near the We fashion store. When you leave the mall for the square you cross that diagonally to the left. Turn right at another We fashion store. After hundred meters you reach Oudegracht (Old Canal). Cross the bridge, turn left and now keep following the canal. The third street on the right is Lange Lauwerstraat. After twenty meters at the blue garage doors on the left side you are there: Welcome at The Happiness Place!

Taxi
If you take a taxi from Utrecht Centraal to this house, ask the driver to bring you to Oudegracht 20 and walk the last 20 meters into the street next to that house. In daytime the ride should cost about 8 euro. If you give the driver the real address, he will make a detour that raises the price.

Public transport.
Utrecht Centraal is a few minutes by bus.
Buses 2, 8, 28, 50, 74 en 77 will take you to busstop Neude (2nd stop), 300 m from here. Turn right when leaving the bus, turn right before the bridge. You walk along Oudegracht (canal) en take the third street on the right. The house with the dark blue garage doors halfway on the left is The Happiness Place.

Bicycle.
Mail me your location and I'll return the route. Park your bike safe and free inside the house.

Car.
Take highway A27 exit 30 De Bilt from all directions. Down the exit choose direction Utrecht. Go straight at two roundabouts. Approaching a 15-high concrete office building the main road turns to the right, and you turn left. Straight ahead at small roundabout. Left at traffic lights and then immediately right (give priority to cyclists too!) Now you see the Dome Tower and a high windmill in front of you. Straight at traffic lights. You are now on the Hopakker, where you can park a little cheaper than in the city. After three hundred meters you will cross a bridge and then immediately there is a strange kink in the road, first left, then immediately right. Then take the first right, which is Lange Lauwerstraat. No. 14 is the house with the big dark blue doors halfway right.
Note that the municipality of Utrecht has implemented a restrictive policy on cars with a diesel engine from before January 1, 2001. These cars are not allowed into large parts of the town, including the center. This area starts at appr. 100 meters from my house, so you could park just outside the restriction zone (before the bridge) and make a short walk with your luggage. If necessary I will assist you.

All you need to know about parking in Utrecht.

Inside Utrecht.
Here you'll find a free map of the centre of Utrecht.
The printed version of this map is available for you in the house.
Inside the apartment you will find a book, made for you, with lots of facts, interesting places and beautiful routes (walking, boating and cycling) in and around Utrecht.
In the center of Utrecht you can easily reach everything on foot or by bike.
The private car is no practical means of transport inside this medieval town.
At several bicycle stores you can hire bikes per day, addresses are here and in the city guide in the apartment.
Public transport within Utrecht is done with buses and one tram line.

Home / Top / Photos & reviews / Conditions / Route / Dates and Rates / Bicycles / Contact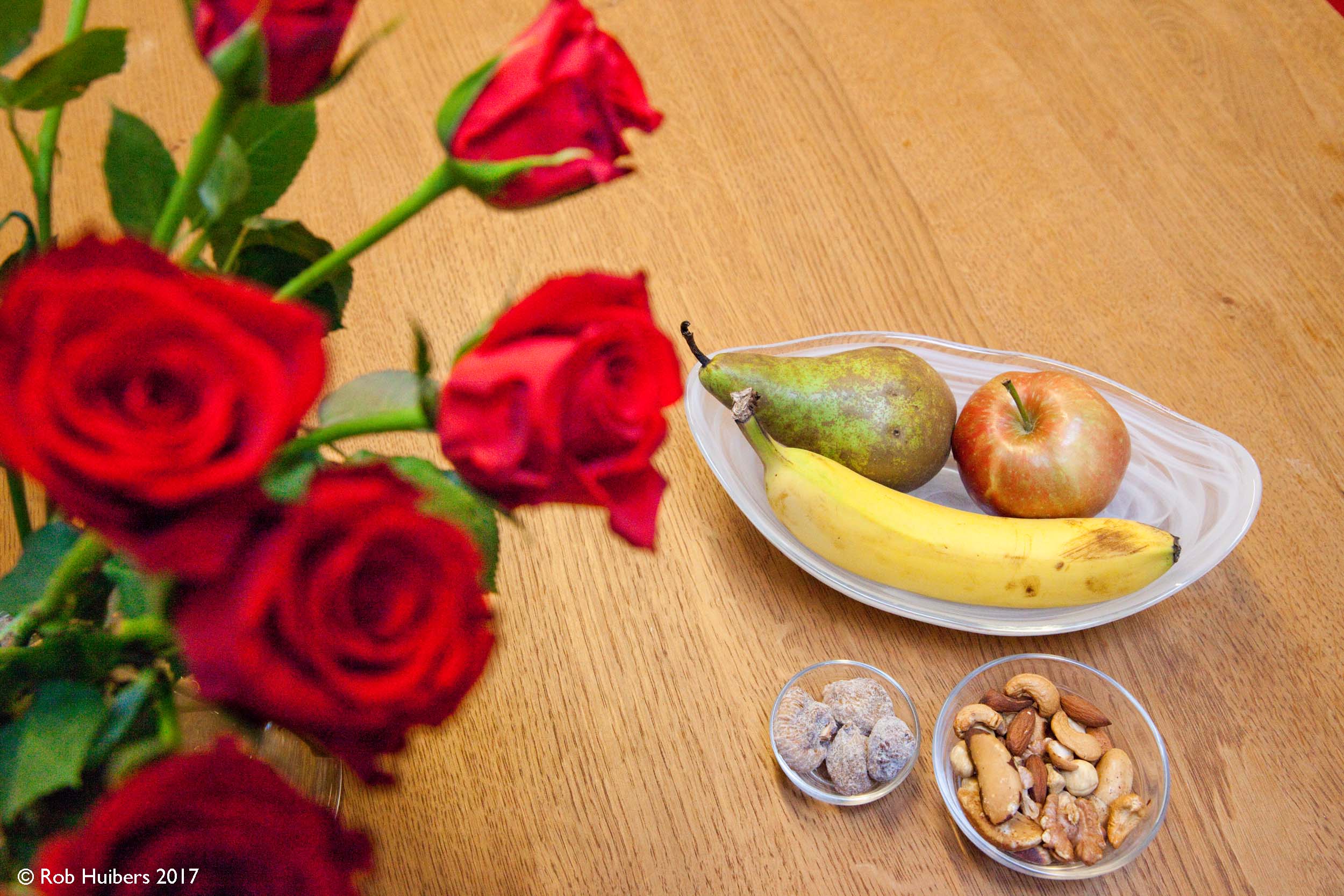 CONDITIONS, RESERVATIONS AND CANCELLATION

Our mission is to offer our guests a pleasant and safe place to stay, a place like home.

As a guest you take responsability to take good care of the apartment and its inventory, to use these only for what they were meant for, to leave them clean and tidy and to compensate for damage.
Walking on shoes, smoking, parties and events are not allowed in the apartment.

All payments are done in euro.
Payments from the EU-countries can be made per bank, at no cost, or per Paypal (with the cost paid by the sender).
Payments from outside the EU can be done from a growing number of countries by TransferWise (at almost no cost), by Paypal (with the costs the transfer paid by the sender: 3.4% of the total amount + eu 0.35, the costs of payment from your country and the exchange of currency), or by bank transfer (with the cost paid by the sender).

International payments bring extra cost in some cases. Inform yourself about these costa at your bank or at Paypal.

When booking more than a month before arrival we will ask you to pay half of the total as a confirmation of your reservation and the other half not later than two week before your arrival. After your first payment your booking is final and will be confirmed. When booking within a month before arrival we will ask you to pay the total sum as a confirmation of your reservation.
All payments will be confirmed immediately.
An invoice will be mailed as a pdf-file after check-in on your request. Please include your invoice address with the request.

If you cancel up to 30 days before check-in time, we will refund your total payment within a few days, minus an administration fee of 10 euro and any cost of payment.
If you cancel up to 14 days before the check-in time, we will refund half of the sum of the total stay, minus an administration fee of 10 euro and any cost of payments, except when other guests take your place.
If you cancel after 14 days before the check-in time, you owe The Happiness Place the sum of your stay, except when other guests take your place.
If your cancelled days are occupied by other guests, we will always refund the days that are replaced within a few days, minus the administration fee of 10 euro and any cost of payments. The administration fee will be charged only once.

Before making your reservation we notify you of these conditions and by reserving you accept them.

Home / Top / Photos & reviews / Conditions / Route / Dates and Rates / Bicycles / Contact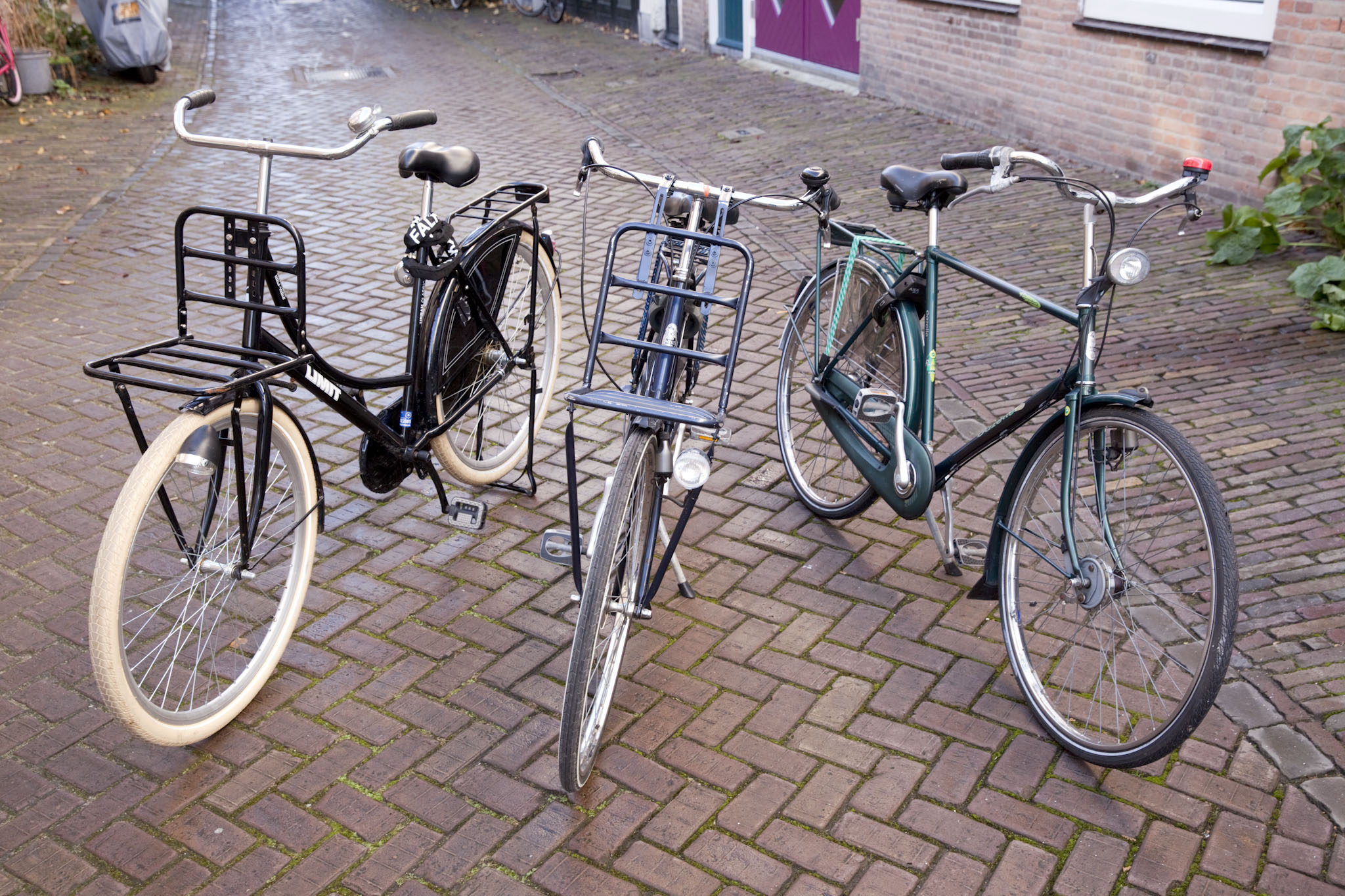 BIKES FOR RENT

At bicycle store Co van Beek you can rent ladies en men's bikes (eu. 7,50 per day) and e-bikes (eu. 17,50 per day). Please phone the store before you go there (or ask me to do that) and don't forget to take your passport. Address: Springweg 16, 3511VP Utrecht, 030-2319933, a ten minute walk from The Happiness Place.

Willemstraat Bike is open on Sundays (12-17:00) rents bikes for eu. 7,00 per dag. Willemstraat 22, 030-2741912.
Are you travelling by bicycle? You can park your bike safe and dry inside at no charge.

Home / Top / Photos & reviews / Conditions / Route / Dates and Rates / Bicycles / Contact

PARKING IN UTRECHT

Parking at Lange Lauwerstraat is permitted only for cars with a license. If you travel by car, you can place it in front of the house for a short while to unload or load luggage. Please don't park in this street, at day nor at night, even if it seems there is room enough. Below you will find an extensive list of possibilities to park in Utrecht, free and paid.

Free parking on the street:
There are streets where parking is free, but the area of paid parking is getting bigger every year. The nearest free parking street is at least half an hour walking from here.
Contact me if you want to know the nearest free parking streets and I will let you know the current best places.

Free parking at P+R Lunetten:
P+R railway station Utrecht Lunetten (and then to Central Station in a few minutes by train).
Furka Plateau
3524HH Utrecht

You can park your car for eu.25 per day inside my house.
Safe, dry and nearby.
Please let me know if you want to use this option, so I can make sure the room is available.
Note: This option will probably expire in 2018.

Eu. 2 per hour and maximum eu. 10 per day at Parkbee with the Parkmobile or the Park-line App at two adresses:
Goeman Borgesiuslaan 77, along the route from the motorway to The Happiness Place and 8 minutes walking.
Tolsteegsingel 3, opposite to Nieuwegracht and 15 minutes walking to The Happiness Place.
For more information click here, call helpdesk at +31(0)85 8880786 or e-mail to support@parkbee.com.

Eu. 4.50 per day, 24/7, guarded.
P+R De Uithof
Universiteitsweg
3584CT Utrecht
(On the A28, opposite Exit 2, and then bus 28 to busstop Neude, 300 meters from here. Bus runs every 15 minutes, ride takes 20 minutes).

Garage Paardenveld 24/7
Kroonstraat 9
3511RC Utrecht
1st 65 minutes eu. 2.80
Up to 125 minutes eu. 5.60
Up to
180 minutes eu. 8.40
After 180 minutes eu. 2.80 per hour
Maximum daily rate per 24 hours eu. 28.00

Q-Park La Vie 24/7
Sint Jacobsstraat 1
3511BR Utrecht
about eu. 4 per hour, up to eu. 30 per day

On the street, about 100 meters from my house (on the other side of the canal)
Hourly rate:
paid parking ma. t / m za.tussen 09:00 to 23:00 hours eu. 3.50
Day card:
only valid on day of purchase between 9:00 to 23:00 pm
valid only in parking rayon where he purchased is eu. 24.40
Evening card:
only valid on day of purchase between 19:00 to 23:00 pm
valid only in parking territory where he has been bought eu. 8.35

Home / Top / Photos & reviews / Conditions / Route / Dates and Rates / Bicycles / Contact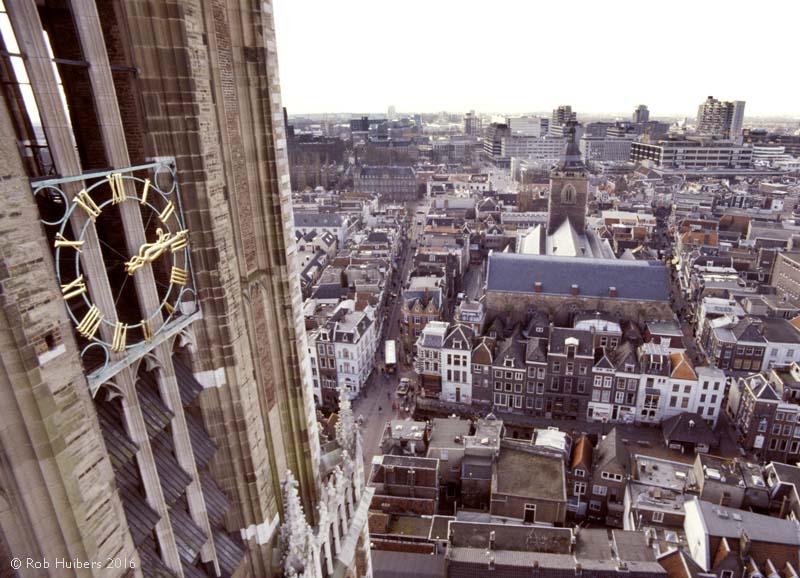 Home / Top / Photos & reviews / Conditions / Route / Dates and Rates / Bicycles / Contact

If you see a grey field here, your system is probably blocking cookies and ads. Turn your blocker off to see the calendar.